Cosmetic Dentistry in Thornton, CO
A beautiful, healthy smile should be the centerpiece of your face. We can help you brighten your teeth with whitening. Read on to find out which options may be right for you.
Whitening
Aging and habits can cause discoloration in your teeth. Wine, coffee, cigarettes, and more can yellow teeth and add years to your appearance. Teeth whitening often produces a dramatic positive effect on appearance that boosts self-esteem and internal confidence. An important key to this process is your teeth – while yellowed teeth bleach well, brownish and grayish teeth often do not. Whitening also does not change the color of bonding or fillings, which can cause them to stand out in a newly whitened smile. Your dentist can help you discover the right solution for brightening your smile to something you are proud to flash.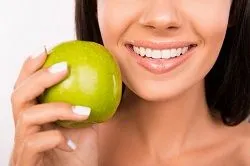 Our teeth whitening options include:
In-Office Application: Typically, only one office visit is required for this whitening process. A whitening product will be applied to your teeth and immediate results can be expected.
Take-Home Trays: Custom-made trays are molded from your teeth for this process. A whitening gel is then applied to your teeth through the trays in the comfort of your own home. The process usually takes about two weeks.
Combination: We sometimes combine the in-office and take-home methods for the most successful whitening process. The changes achieved by our intense whitening agent in-office is further stabilized by the use of the take-home trays.
If would like to schedule an appointment, or if you have any questions or concerns about an upcoming procedure, please free to contact us via phone or email. You can also learn more about the services and options we provide by visiting our services page.
Want to learn more about our cosmetic dentistry services at Hearthside Dentistry?
Call our Thornton, CO office at (303) 280-2285 today to book an appointment