Dental Crowns in Thornton, CO
Your smile is one of your most important assets. A smile can help you connect to others and make friends or defuse a tense situation. In addition, a beautiful smile can help you feel confident in just about any situation.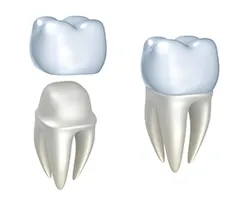 If you need restoration services, including a dental crown, filling, bridge, or even just teeth whitening, at Hearthside Dentistry, we have the experience and passion to help you achieve a smile worthy of you.
Dental Crowns
Dental crowns are a very popular type of restoration service that is useful for protecting your weak or damaged teeth. Specifically, dental crowns are often used for the following purposes:
Protect your tooth from decay and cavities
Protect your tooth after a root canal
Hold your cracked tooth together
Create a more visually appealing tooth
Anchor a dental implant or bridge
A dental crown will fit over your tooth the same way a hat - or crown - fits over your head. Additionally, the crown will provide your tooth with a protective layer, similar to enamel, that is strong and resilient and will help lengthen the life of the tooth.
Other Tooth Restorations
If a dental crown isn't the right option for you now, you can still restore your teeth through other means. Maybe you just need a tooth filling, or maybe you need a whole new set of teeth. Whatever your needs, at Hearthside Dentistry, we can fulfill a number of restoration services, including:
Bridges
Dentures
Fillings
Implants
Inlays
Onlays
Teeth whitening
Veneers
You don't have to live with a smile that doesn't satisfy you. With the proper tooth restorations, we can help preserve the strength, shape, and color of your teeth. At Hearthside Dentistry, we offer solutions for minor and major restoration issues. Call us today at (303) 280-2285 to set up an appointment at our Thornton, CO, location.
Want to learn more about dental crowns from Hearthside Dentistry?
Call our Thornton, CO office today at (303) 280-2285 to book an appointment