Dental Implants in Thornton, CO
After teeth are extracted, patients can consider replacing missing teeth with dental implants to restore chewing function and aesthetics. The implant is surgically implanted into the jaw to hold replacement teeth. If there is only one extracted tooth, one implant and a crown are often enough to replace it. If there are multiple missing teeth, implant-supported bridges are a more suitable option.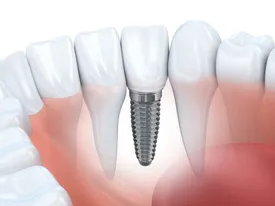 Candidates must have enough bone and gum to hold the implants in place. Ideally, patients should have healthy gums and no signs of periodontal disease. If there is gum disease present, the dentist will work out a treatment plan to help improve the gums before implants are put in.
Once the replacement teeth are in place, patients must care for them as they would their own natural teeth. Brushing and flossing daily is important to help keep plaque and bacteria at bay. In addition, routine visits to your dentist are necessary to maintain the longevity of the dental implants.
If would like to schedule an appointment, or if you have any questions or concerns about an upcoming procedure, please free to contact us via phone or email. You can also learn more about the services and options we provide by visiting our services page.
Want to learn more about dental implants from Hearthside Dentistry?
Call our Thornton, CO office at (303) 280-2285 to book an appointment